Arncliffe Flooding Damage Fix
There were flooding issues for this home which resulted in the original floorboards rotting away.
Dreamwood Builds found the flooding issue and repaired it, then waterproofed the slab and managed the installation of new Queensland Spotted Gum flooring.
"Rob had all aspects of the job planned out before he started, and devised solutions for any unforeseen problems that were discovered during the renovation. He explained what was required in detail, prior to the commencement of work. Hired and supervised all the subcontractors, and ensured all aspects of the job were completed to the highest professional standards. Rob has fantastic customer service skills and it shows in the way he works. His aim is to provide high-quality work and complete customer satisfaction. No job is too small, or too much trouble. Great company. Great service. Highly recommended for any type of job".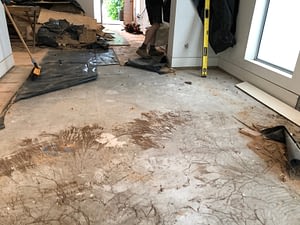 And the finished product...