Forestville Sinking Doorway Fix
This home in Forestville had a structural issue that was causing this doorway to sink down into the level below. Dreamwood Builds investigated and found a structural fault, then designed and built the solution. Now it looks like there was never an issue at all!
"Dreamwood Builds undertook an unusual repair where no lintel had been installed over a double door with a window on either side – the equivalent of 4 door widths. The pressure from the roof was taken only by the timber above the frame. This also put pressure on the brick sill under the door leading to a veranda.
Rob Senior and his team were able to solve the problem by installing a beam across the top of the frame and re-support the roof meaning that our doors will now open!
Rob kept us constantly informed of the issues as they arose. His sub-contract bricklayer was also professional – job well done".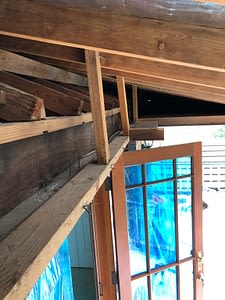 And the finished product...